Application & Data Integration

Connect Over 80 Different Data Sources Without Coding

DataSpider Servista Overview
Integrate & Streamline
Easily Connect a Wide Variety of Systems and Applications
Adapters: DataSpider Servista provides over 80 adapters compatible with major data destinations. IBM Notes, kintone, Salesforce, and your favorite SAP applications can all work together the way you need them to.
Safety: DataSpider Servista plays by the rules and doesn't modify existing systems. For example, when connecting with Salesforce, DataSpider Servista follows all Salesforce's standard protocols. You just input the connection information, set up data acquisition, and DSS gets to work. That's just two steps to connect Salesforce.
Cloud: Major cloud services like Microsoft Azure and Amazon Web Services interact smoothly with DataSpider Servista, too. Plus, we're at the forefront of the latest services and applications on offer, so that we can continue to provide the most desirable connecting adapters.
Flexibility: DataSpider Servista remains flexible when working with various databases, protocols, and file formats. It's just as easy to cancel or reroute a connection with an adapter as it is to set one up in the first place.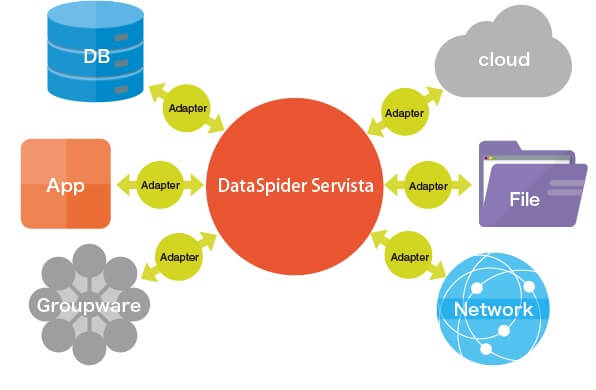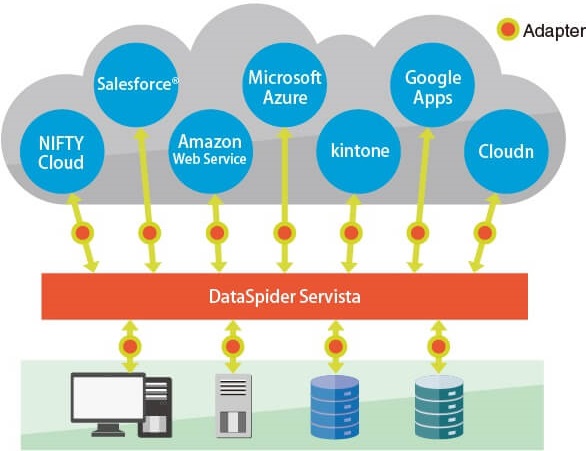 No Coding Required
Example: 14,000 Lines of Code Replaced by 13 Icons You Can Move Around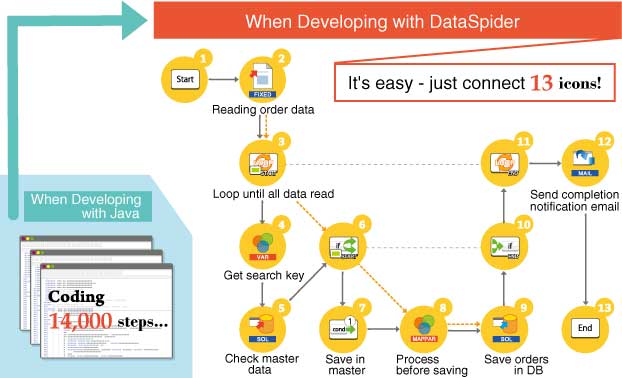 DataSpider Servista's GUI lets you easily set up data connections and automated processes by simply dragging-and-dropping icons.
To understand how this compares to coding, let's take a look an example process:

Fixed-length order file …
Compare with the product master …
Store the file in the SQL server …
Send a completion report email
Programming this would require writing over 14,000 lines of Java code. With DataSpider Servista, all you need to do is lining up and connect 13 icons - a huge saving in time and labor!
Execute at High Speed
Bulk Data is Processed Fast for Immediate Use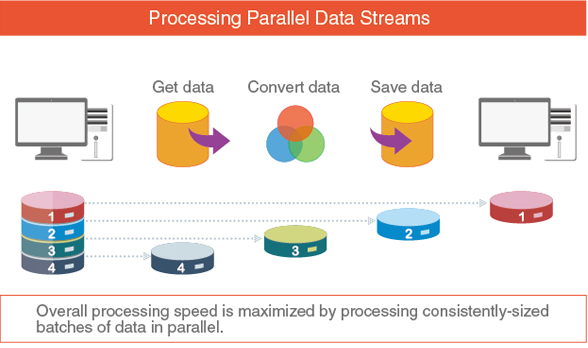 High-speed data processing is a must for the immediate utilization of large volumes of data. DataSpider Servista implements Parallel Stream Processing (PSP) to execute data input, conversion, and output as quick as possible. What's more, the performance is equivalent to a manually coded program in Java—just as if a real live human had done the work. Data is yours to extract.
---
DataSpider Servista is available as a downloadable package and is mainly used on-premises.
For usage examples, please see our Case Studies.
To confirm compatibility with your systems, please see our Operating Environments Database.
To download brochures or watch introductory videos, please see our Product Resources.