Data Integration Explained
Advantages of Data Integration for Your Business

What Is Data Integration?
Business processes and decision making can be greatly enhanced by having the right data in the right format - and having it faster. Your organization has data residing in many different systems, databases, and applications. Data integration is the process of extracting that data from where it lives, changing its format, and combining it into usable forms.
Data integration projects generally consist of the following:
Extracting data from all sources and locations including the cloud and on premises.
Processing the data from these disparate sources into compatible and consistent formats.
Sending the processed data to systems that need it, when they need it. This may be in batches, near real time, or in real time.
The result is much greater business efficiency, better execution of strategies, and a higher degree of flexibility.
Before & After: Improved Operations from Data Integration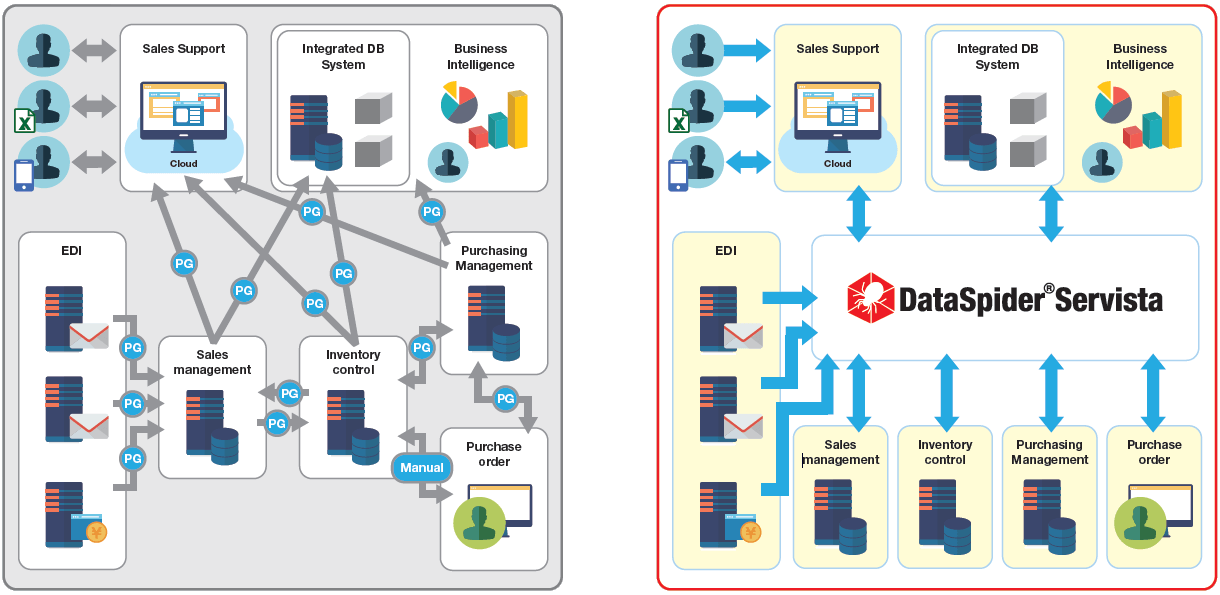 Choosing the Right Data Integration Solution
Data that is not effectively managed can cripple a business. Despite knowing this fact, many organizations spend the bulk of their time preparing data rather than analyzing and acting on it. In the same way that you wouldn't attempt to build your own database software in-house, data intergreation projects should use best-in-class software that allows for rapid changes and scalability.
Compatibility: You need to be able to extract the data, whether it's in a cloud-hosted system or an on premises legacy database.
Quality Control: You want to ensure that data sent to a new application is error free and in the right format.
Stable Vendor: Your business needs to work with vendors that have demonstrated a solid track record and are committed to excellence for the long-term.
Efficiency: You need to be able to rapidly implement integration without the need for difficult, costly, and complex coding. Your business units need to be able to get what they need without delay.