Logic Name
Get Value by XPath
Function
Gets value by XPath.
Data Types
| Location | Type |
| --- | --- |
| The first input handler | String |
| Logic output | String |

Refer to "Logic Specifications" for details.
Properties
| Category | Property | Description |
| --- | --- | --- |
| Required | XPath expression | Specify the position to get the value by XPath expression. |
| Comment | Comment | The comment will also be output to the specifications.It does not affect the conversion process. |
Specification Limits
This logic cannot be used in Document Mapper with table model type input/output data.
Notes
The input handler can only be mapped from the input source element because it specifies the element serving as the processing criteria.It cannot be mapped from attribute, script variable or Mapper logic.


Specify a relative path for [XPath expression] in case of getting the value associated with the currently processing node in the iteration process.


When absolute path is specified in [XPath expression], the logic gets value not from the element specified with input handler, but from the root element.
Logic Sample
Mapping Definition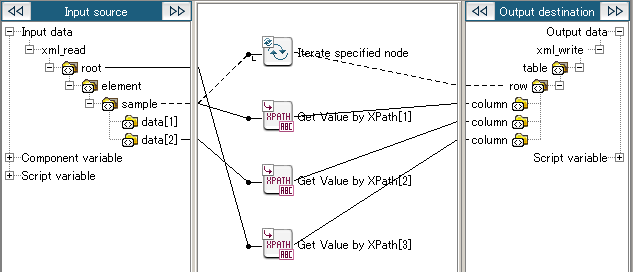 Logic Settings and Processing Result
This logic output values from XML data by XPath expression.
Property Settings
Get Value by XPath[1]



| Property | Setting |
| --- | --- |
| XPath expression | data[1] |



Get Value by XPath[2]



| Property | Setting |
| --- | --- |
| XPath expression | . |



Get Value by XPath[3]



| Property | Setting |
| --- | --- |
| XPath expression | /root/element/sample/data[1] |
Input Data
<?xml version="1.0" encoding="UTF-8"?>
<root>
<element>
<sample>
<data>data1</data>
<data>data2</data>
</sample>
<sample>
<data>data3</data>
<data>data4</data>
</sample>
</element>
</root>

Result Data
data1,data2,data1
data3,data4,data1