Excel Workflow Automation
DataSpider Mini for Excel
Automate Excel File Creation, Sending, and Data Input.

Available for sale in South-East Asia, DataSpider Mini for Excel allows users to create processing flows. For example, data can be imported and then processed with operations such as structure transformation, filtering, mapping, integration, and calculations. The result is increased operational efficiency and fewer errors.
Use Cases
1. Automatically Create Excel Reports from Multiple Data Sources
Manually creating Excel reports from multiple data sources is time-consuming, labor intensive, and error prone. Use DataSpider Mini to automate the process and improve your operational efficiency. Thanks to the GUI, this can all be set up quickly and easily without any coding.
2. Send Data from Excel to Multiple Systems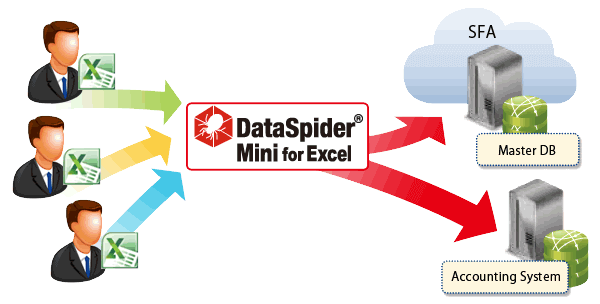 Your staff are familiar with Excel. Instead of manually inputting data to multiple systems, DataSpider Mini for Excel can be used to automatically send data from Excel files to multiple systems. This saves time, reduces the need for training staff to use the other systems, and minimizes human error.
Product Specs
Included Components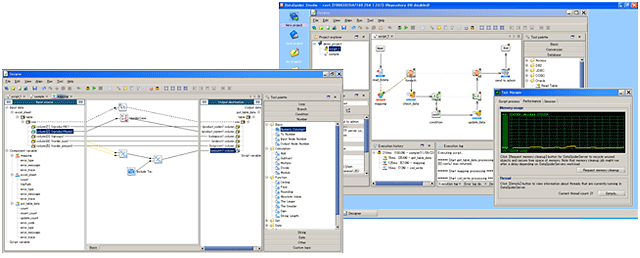 DataSpider Mini for Excel English Server
Development Client x 1
Excel Adapter
Email Adapter
CSV Adapter
Schedule Trigger
Supported Oses
Server:
Microsoft Windows Server 2003, 2003 R2, 2008, 2008 R2, 2012, 2012 R2
Client:
Microsoft Windows Vista Business, 7, 8, 8.1
Microsoft Windows Server 2003, 2003 R2, 2008, 2008 R2, 2012, 2012 R2
DataSpider Mini for Excel is available as a downloadable package and is mainly used on-premises.
For usage examples, please see our Case Studies.
To confirm compatibility with your systems, please see our Operating Environments Database

.
To download brochures or watch introductory videos, please see our Product Resources.